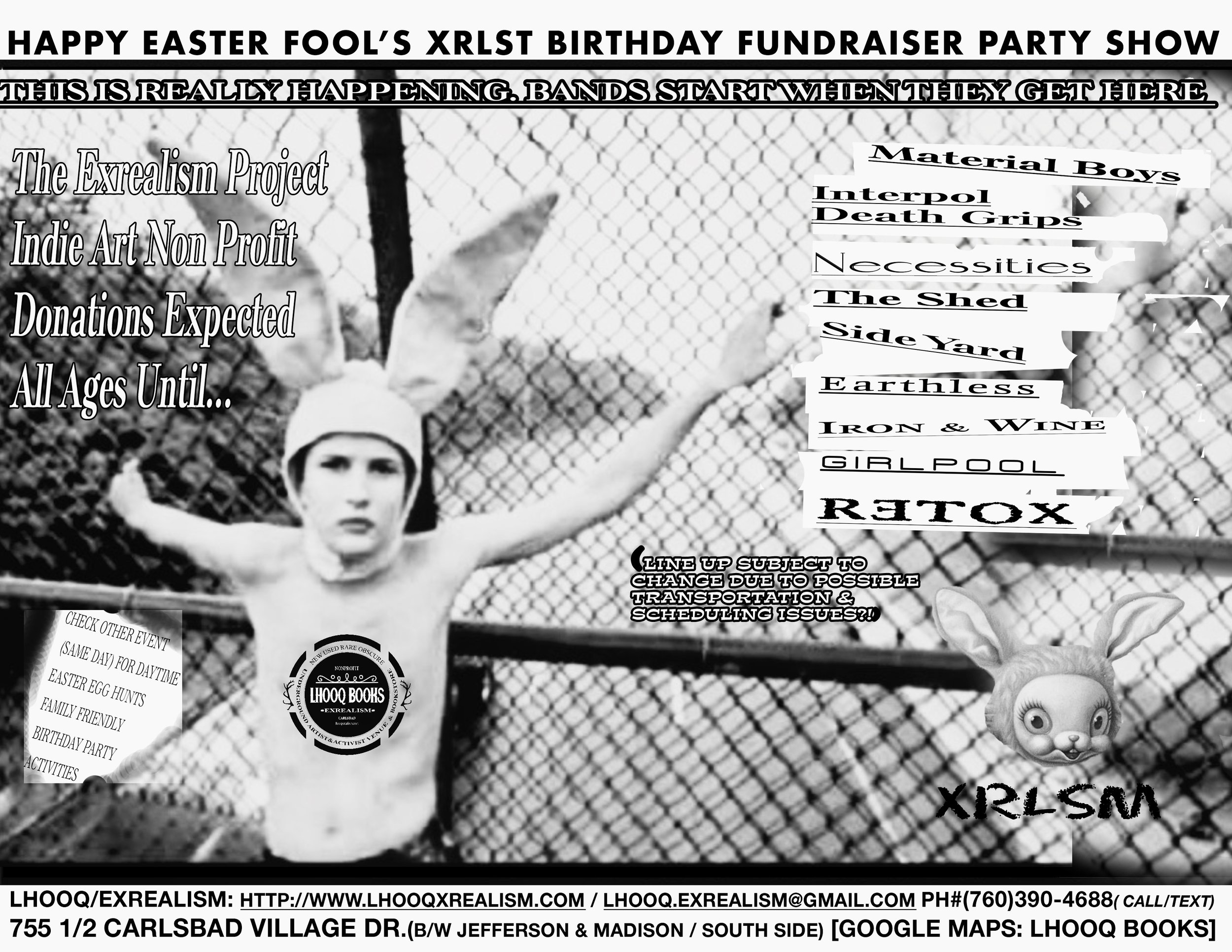 Yes!! This is a real show!
HAPPY EASTER FOOLS' BIRTHDAY PARTY FUNDRAISER SHOW
Fundraiser pre-launch, Please donate now on our website. (We are working on a formal fundraiser with a financial cap and time limit specifically to help remodel the community library and launch our international arts nonprofit.. there will be membership incentives with shirts, gift bags, discounts, recognition, etc ASAP.) But if you donate now you will receive all the above mentioned retroactively. The Exrealism Project international nonprofit is designed to provide grants/funding to artist & activists who are politically aware & socially conscious, actively involved in helping the agenda of equal human rights for all! Working locally & around the world. Collaborating with many artists and organizations who truly make and inspire change. Thank you!!!
For the first time in my entire life Easter falls on my birthday?!?! Yup, I'm an April Fools' Kid. And since my son loves easter, I thought what the heck, what better time than now?!?! Easter on Fools' day won't happen for another Millenium! And who doesn't love Easter egg hunts. put some cake on the table and call it my birthday party as well. Then I pulled all the stops and cashed in all my favors, begged and some things I can't mention here #*(&@?!.. and bang, holy Sh#%t, we've got ourselves one very seriously crazy line up:
Material Boys
Interpol
Earthless
DeathGrips
Necessities
Iron & Wine
Girlpool
The Shed
Side Yard
The Blackheart Procession
100% of all the bands listed are all trying to make the show, some have to fly from Europe or further, reroute their bus tour, come out of retirement or even get out of bed and practice a little. So in true socialist/democratic form whoever makes here first picks when they want to play, minus a few special exceptions. The bands we have 100% confirmed with scheduling, etc will blow your mind and it will be shocking to see them "Live" in our little space here in our home town Carlsbad, CA.
There will be two events one after the other. First the more family friendly private-ish Easter egg hunt / birthday gathering. Then, once the bands start showing up, it will transition into a full scale party/fundraiser for The Exrealism Project international artist nonprofit event /party with a bar. ✌🏼‼️✔️✖️.
Happy Easter Fools' Birthday Fundraiser Party. Yes, it is on April Fools' and there will be some pranks, but the show is real. (And our international nonprofit expansion is also real so please donate now, donate at the show and donate after. We are out to help the world with real change by creating a space formal artists and activists to share ad communicate freely.)
WE PROVIDE GRANTS & FUNDING FOR ARTISTS AND ACTIVISTS WHOSE EFFORTS REALLY DO MAKE POSITIVE CHANGE ALL AROUND THE WORLD!1 (read moron our website, and note, there will always be moron our website considering we just launched it prematurely for you so you will experience it blossom from a typo ridden mess of riddles and twists into a highly advanced, wide spreading, fine tuned machine and tool of the people?!?!?!?
#lhooqbooks #lhooqxrealism #music #venue #diy #fundraiser #easter #party #aprilfoolsday #birthdayparty #supportnonprofits #supportthearts #supportsmallbusiness #exrealism #xrlsm #therxrealusmprohect @exrealism Hosted at @lhooq_books #getblownaway #createyourcommunity #carlsbadvillage